As Bookstores Fight For Survival, The Community Gives Them Hope
A few weeks ago, University Press Books in Berkeley announced it would shut for good after nearly 50 years in the business. Now, the remaining East Bay independent bookshops are turning to the community to hold on.
Doris Moskowitz runs Moe's Books, and she says customers sometimes tell her Berkeley wouldn't exist without Moe's.
She thinks that's an exaggeration. But she knows Moe's is a landmark. It was founded in 1959 by Doris' mom Barb, and dad, Moe.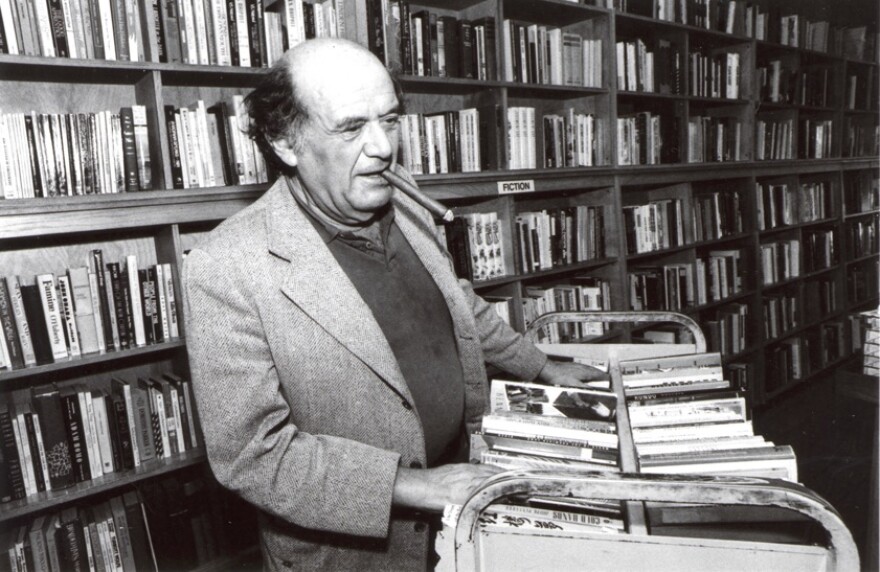 "He was a really larger than life guy. When I was a kid, I was born in 1966, I definitely thought that he had read all these books," Moskowitz remembers.
That would be quite the feat. It's a huge shop with four floors stocked with hundreds of thousands of new, used, and rare books.
A Fabric Of Berkeley
Moe's has also been part of the fabric of Berkeley's culture. It became a refuge for people protesting the Vietnam War during the Free Speech Movement of the 60s. Moe kept the store open during curfews, and protestors hid out in the shop as police fired tear gas on the city.

"And they were really comfortable just letting protesters come in the store to get away from the National Guard and get away from the gas. And they were proud that rioters who maybe didn't even know the store, they knew it enough to respect it.
The Battles Before The Crisis
Moe's has spent the last few decades battling the wrath of the chain store, then Amazon, then the Recession. Moskowtiz says at the start of this year, it was beginning to finally feel like the golden age of independent bookstores again. Moe's was filled with customers.
That is, until the Bay Area was ordered to stay at home.
"I was just so worried and so confused and so concerned about everything and everyone that I found myself up here working anyway," Moskowtiz says. "It's like other people are at home gardening and working on their house and doing puzzles. I'm up here putting books away. Because I just needed to be here."
Moskowtiz says May sales at Moe's were down 70 percent compared to last year. Even though the store is open again, business is still hurting. That's true for a lot of bookstores right now. Author Charlie Jane Anders worries that when the pandemic is over, not all bookstores will make it to the other side.
'We Love Bookstores'
"I honestly really believe that the San Francisco Bay Area, without these local bookstores, will just become a soulless dystopia. And I know a lot of people feel like the Bay Area has already been at risk of losing its soul," Anders says.
So in an effort to slow down this soul demolition, Anders and others organized an event called We Love Bookstores. The idea is simple: the group hosts literary events online to fundraise for local bookstores.

"And, you know, we tried to target the bookstores that we thought were at the most risk of having to close if we don't support them," Anders says. "And also at the most, you know, at the most kind of essential for their communities."
The We Love Bookstores team raised an average of almost 3-thousand dollarS during each of their first 19 events. The funds have gone to bookstores like Moe's in Berkeley, Dog Eared Books in San Francisco, and The Multicultural Children's Bookstore in Richmond.
Richmond's Multicultural Bookstore
Tamara Shiloh owns The Multicultural Children's Bookstore. She's also the author of the children's book series Just Imagine...What If There Were No Black People in the World? The series is about African American inventors and scientists.
"I'd just like to stay in Richmond. It's where I live. It's where I grew up. It's home. And I want my bookstore to be in my home," Shiloh says.

Before the shelter-in-place, Shiloh hosted Black history and science classes at the bookstore. She says you'd be hard-pressed to find a multicultural bookstore like it anywhere.
"We just want to make sure we satisfy, take care of the community. So we try to make sure we accommodate as many folks as we can, if not all," Shiloh says.
But a few months ago when the shop shut, sales literally stopped. That all changed recently. As protests erupted around the country after the killing of George Floyd in May, Shiloh tells me people began seeking books to help them make sense of racism in America: Adult books like White Fragility and children's books like The Antiracist Baby.
"And it's a board book, it's for babies. It's incredible, the number of people who are, you know, stepping up, realizing that they need to have a better understanding of what's going on, not so much what's going on, but why," she says.

Walden Pond Books Gets Creative, Turns To The Community
Other bookstores reached out directly to the community for support during shelter-in-place. Take Walden Pond Books not too far from Oakland's Lake Merritt for example. Walden Pond Books first opened up in 1973 inside of a plant store. But soon the books outsold the plants, says manager Bob Fisher.
"And our guiding principle is getting the right book to the right person at the right time," Fisher says. "I can't think of one category of book that we don't carry. Oh, I can think of something. Computer books."

But when people can't come into the shop, it's hard to help people find books. About twelve weeks ago, Fisher says, the shop was at risk of folding for good. They began using BookShop, a new website that helps indie storefronts sell books online.
"And it's basically the independent bookstore's answer to Amazon," Fisher says. "It's an interface that allows booksellers to make lists of books that they recommend...that actual people recommend as being the best books available. And we can sell books online extremely easily."
'That's Where I Discovered Books'
And in what he calls reluctant desperation, they launched a GoFundMe campaign.
"And the results really exceeded our expectations. We raised over one hundred thousand dollars in ten days," Fisher says.
Some of the comments on the GoFundMe page had him tearing up.
"The ones I remember especially, are the ones from people who said they literally grew up at Walden Pond books. Walden Pond Books was the first time that they had held a book in their hand. That's where they discovered books. That's where they discovered they loved books. People just don't want us to go away."
That combination of a sleek internet platform and customers unwilling to see this physical space go saved the bookstore. Walden Pond Books is no longer at risk of closing for good, though its doors are still shut for now.
The Awakening At Moe's
But, slowly, the Bay Area's bookstore ecosystem is beginning to awaken. Across the Bay, City Lights in North Beach and Green Apple Books in the Richmond District are open again. And in Berkeley, just weeks ago, Moe's opened its doors.
"Everyone that came in was so happy. Oh gosh, they were so happy, it was so great," Moskowitz says.
Moskowtiz says many of the regulars were back, and they wandered over to their usual spots.. People have been stuck in their homes for so long, Moskowitz says, that to be in a bookstore again can feel like exploring the entire world.
People wear masks, stand six feet apart. Staff count every customer to make sure not too many people are inside at one time.
"They come to the door, and they take a big, deep breath. I mean, they're wearing a mask. But they take a deep breath and they say, 'Okay, everything is going to be okay,'" Moskowitz says. "I guess we're symbolic of civilization not falling to pieces. That's kind of nice that people think that. I don't know if it's true. It's true to me."
Moskowtiz says most of the shop's sales are still online, and it's likely to be like that for a while. But she's optimistic that even as all else feels like it's crumbling, even if sales are down for now, this bookstore isn't going anywhere.