Pooches hang 10 at World Dog Surfing Championships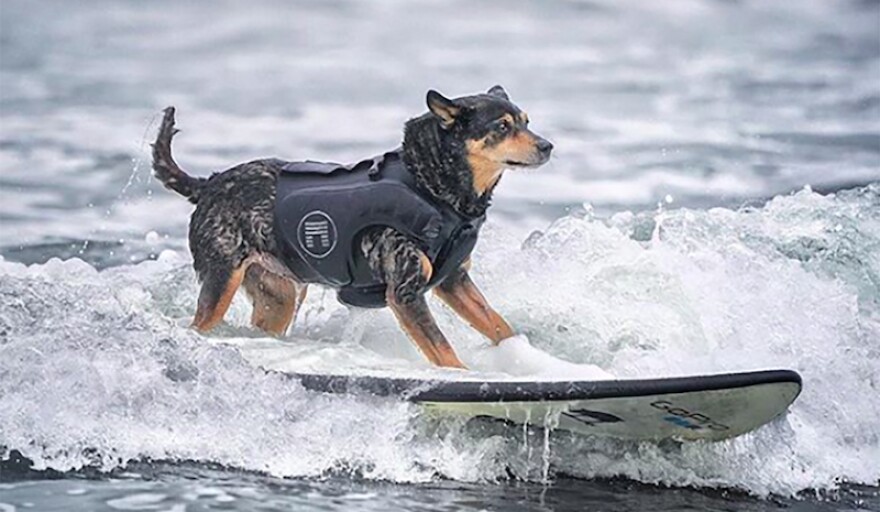 On a recent Friday, Michael Uy (pronounced We) showed me his dog Abbie's custom board. It's got a unique fin alignment — he says it helps her steer better — a notch to hold a camera in place and a leash to keep it from getting lost in the waves.
"It's just the top that's soft so that her claws can dig into it," he explained. "And you can see here, there's a number of places where you can see her claws have dug in."
Abbie is a twelve year old Australian Kelpie and a champion dog surfer. She also holds the Guinness World Record for longest wave surfed by a dog, a total of 60 meters. But Michael says he didn't have any of that fame in mind when he first took her into the water ten years ago.
"Abbie was a rescue dog and she was highly traumatized so originally going to the beach, swimming in the ocean was to help her build her confidence," he said.
One day, while Michael and Abbie were on a particularly long swim, he asked a surfer if she could rest on his board. As soon as she got onto the board, she stood up.
"And we pushed her into a wave and she had a great time," he said. "So we did it again and it was the most confident I had ever seen her."
Since then, Michael and Abbie have become surf celebrities. Abbie has sponsorships, a dedicated following on social media, and has even made an appearance on Animal Planet. Despite all her success, Michael says Abbie hasn't let it get to her head. "She's very laid back," he said. "She's very much a surfer at heart."
Last year, Michael entered Abbie in the World Surf Dog Championships. And she won. This year, she's back to see if she can defend her title.
The next saturday, Abbie heads to the competition. As the competitors and their dogs put on life vests the announcer calls out the first heat: "Surfers head down to the water's edge. Take your surf boards. Take your dogs."
The dogs and their owners paddle out while spectators pack onto Pacifica's Linda Mar beach. May Ahmed and her friends stand ankle deep in the surf, craning their necks to see the first heat of small dogs head into the surf.
Ahmed describes what's happening: "They take the dogs out and you see the dogs get increasingly alarmed, especially if they're small."
May and her friends are Abbie fans. They like the way she poses for pictures after her heats when Michael lets her jump up and rest her paws on his shoulders and they both mug for the camera. But May has her eye on another competitor too.
"Well, we've been a fan of Gidget," she says. "I'm gonna just show you his shirt. This is Gidget. The picture is a very determined pug coming to shore, strapped in with a life vest atop a bright pink surfboard."
Dog surfing is actually a pretty human-intensive sport. People wade in the water to pick the right waves and push the dogs towards shore. Then, there's a team of people on land to make sure the dogs make it safely in. If there's a wipe out, a human is there to scoop the dog up and set it back on the board. Michael says while all the dogs are rivals on land, in the water, it's a different story.
"If something happens, everybody jumps in and helps. It's a really great, safe community in the water," he says. "Everybody's friends and on land we're all out to get each other."
The competition is divided into categories for small, medium, and large dogs. There's also categories for human and dog tandem surfing. The dogs head out for 15 minute heats and the judges assess their tricks and overall surf ability. Getting the dog to shore seems to be the main objective. The judging is supposed to consider the size of the waves and length of the ride but to an untrained observer like me, it just looks like an uncoordinated melee with dogs and humans thrashing in the waves.
At the end of the heat, the dog with the best run the judges select the dog with the best run and the top score from each heat then moves on to the final. In the small dogs, Prince Dudeman and his owner, Ryan Thor, make it through while others like Rusty the surfing Min Pin — a miniature pinscher — don't make the cut.
Abbie faces off against Beans the whippet. But Michael's a little nervous. He broke his ankle the week before and he's slowed down by a big, neoprene-wrapped cast. Plus, the surf is bad and the water is cold. Abbie only manages to catch a couple good waves. By the end of the heat, Michael looks exhausted — barely able to make it out for their signature pose.
"I think my leg held me back a little bit. We got out as far as we thought we could and Abbie got one good ride," he said.
Abbie takes a nap under the judges table and then charms her way to a bag of treats from some volunteers. She doesn't seem to notice that they haven't advanced to the finals.
When the final heat for Top Dog is announced, Goldendoodles Derby and Teddy bound to the water alongside their small and medium sized competitors. All the dogs seem to have good runs and when the horn blows to end the heat, I think maybe Derby has surfed his way to top dog.
But the big dogs are no match for Gidget. In the end, the determined pug on the pink surfboard takes home the prize. Abbie and Michael cheer them on. Michael's disappointed they didn't advance, but he's still happy to walk away with third place in their category.
"We had fun," Michael said. "We had fun that's what matters."
Michael encourages all dog owners to use sports to bond with their animals. Whether that's shredding it on a surfboard or running around with a frisbee, he says the most important thing is to find something you both enjoy.
"Your relationship with your dog should be all about helping your dog find their true potential, what they're meant to be," he said.
Abbie is getting older and Michael doesn't know how much longer she'll be able to compete. But he is confident that she'll always surf. He says, "It's just what we do."
In Pacifica, I'm Sara Harrison for KALW.