In San Francisco, a dog lover helps decide the fate of wayward pooches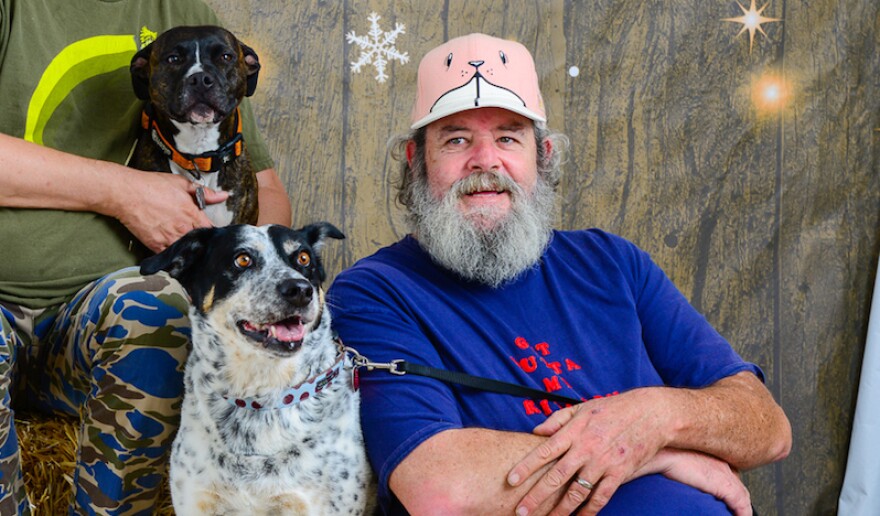 There's Wifi and Tesla, Cheerios and Cocoa Puff. There are three registered Clintons, and thirteen Bernies. Those are just some of the names of registered dogs residing in San Francisco, where the city's 120,000 canines famously outnumber its children.
But put that many cuddy companions in one place, and it's inevitable that some of these four-legged family members will act out, snap, bite, and attack.
And when pets turn violent, Dog Court steps in.
A pitbull on the loose
Dorothy Chan's dog, a ShibaInu named Sammy, was attacked outside the Palace of Fine Arts last winter.
"So Sammy is just walking around here. I'm looking at him. And all of a sudden, Whoosh!" Chan explains. "And then I realize Sammy's not with me. So I scream."
Poor Sammy was nearly killed, and now Chan wants revenge. She wants the dog who bit him, a pitbull named Ajax, sentenced to death.
In a hearing room at San Francisco's City Hall, Dog Court is in session. Chan drops down, and rolls around on the floor in front of the judge's bench to recreate the dog fight. She explains how a cop broke up the brawl, and the frightened Shiba dashed into the street.
"And I'm like, 'He went that way.' So I'm running, and calling, 'Sammy, Sammy!'" Chan says.
Sammy survived. But the future is less certain for the pitbull who pounced on him.
The judge, hearing officer Jeff Foster, will decide Ajax's fate. But he hears from all sides first.
He calls Ajax's owner to the stand, and asks, "So, what do you have to say about Ajax?"
Gem Mil Langit says he's never had a problem in the eight years they've been together. Langit says he wasn't there the day of the attack, because he was on vacation and left Ajax with a dog sitter.
He told the sitter to keep the pitbull in a muzzle, but she didn't listen. She actually handed Ajax's leash to a tourist so she could take a photo of the Palace of Fine Arts.
Then, Ajax escaped.
People behaving, badly
In this moment, listening to this story, Foster is not impressed by humankind.
"It's the humans in this that created this whole problem," Foster says. "I would prefer not to penalize the dogs, I would prefer to penalize you."
At Dog Court, Foster can't impose fines or jail time. Legally, dogs are nothing more than a piece of property, like TVs or coffee tables. And the law can't punish people for not watching over coffee tables.
"So they don't think about the owner's actions in this situation," Foster explains. "They just think about well, this is a piece of property that can actually bite."
But Foster can try to convince owners to be more careful by threatening to take away or euthanize their dogs.
In this case, he opts for leniency.
He orders the owner to enroll Ajax in training classes, and use more reliable dog sitters. If Langit doesn't follow through, the dog will be branded "vicious and dangerous."
That's a legal term that requires even more regulatory hoops.
"It has to be tattooed, you have to post signs all around your house warning about a dangerous dog," Foster says. "You have to register with the city, which costs."
Like judges in Human Court, Foster thinks first about public safety when he issues his rulings. But he also thinks about a hotel tycoon named Leona Helmsley, who left $12 million dollars to her spoiled Maltese. He considers those kinds of relationships when he hands down his rulings.
"It's a really excellent example of how people anthropomorphize their dogs. They turn them into humans," Foster says. "I've seen big strong tough guys cry tears — tears just gushing out because they're going to lose their dog, because they love that dog."
The Diane Whipple tragedy
Throughout the hearing, Officer Ryan Crockett sits at attention. Crockett is the San Francisco Police Department's one-man Vicious and Dangerous Dog Unit.
He gets about ten phone calls per day related to bites and nips.
Hearings like these have been happening in San Francisco since the 1990s. But for years, Crockett says, no one really took dog court seriously.
In 2001, everything changed.
"The thing that kind of sparked the unit to being bigger and having more hearings was when Diane Whipple was actually killed by a dog in her apartment complex," Crockett remembers.
It was gruesome and bizarre case. The Presa Canario — a type of mastiff — that mauled Whipple to death belonged to two lawyers who were breeding them for their adopted son, a white-supremacist gang member serving life in prison.
After the tragic mauling, SFPD created a vicious and dangerous dog unit, and dog court hearings ramped up.
"The dog unit, from then on, took it to the next level to make sure that that would never ever, ever, ever happen again," Crockett says. "Some counties will just have one person and it's a closed door session. Here, it's a really well-oiled machine."
Crockett says this system keeps mean mutts from falling through the cracks. Anyone can request a hearing about a dog they believe is a public safety threat.
"Either you need to do something about your dog's behavior and fix it or the city's going to do something to protect everyone," Crockett says.
A barking dog can sometimes bite
Back at Dog Court, Jeff Foster has more difficult decisions to make. He asks Kristina Kaiser to tell him what happened the day she and her dog were attacked. With her arm in a sling, Kaiser takes the stand to describe how her elderly Chow Chow, Otis, was charged by a pitbull named Zeus.
"It was not an 'I'm excited to see you' situation. It was an, 'I'm going for your jugular' situation." Kaiser remembers.
When Kaiser tried to defend her pet, the pitbull bit her arm. She needed more than two dozen stitches. Officer Foster asks her what should happen to Zeus.
"I can't say what I want to happen to that dog, because it kills me to think about what's being suggested," Kaiser says.
In defense of the breed
She doesn't want to be the person to decide his fate.
"I love pitbulls, I have had many friends who have pitbulls who are the most loving, caring dogs I've ever met," Kaiser says. "I don't think it's a dog issue. If you have an aggressive dog, you need to take care of it."
The pitbull went for Otis' neck and underbelly, then grabbed the Chow's leg and shook him hard. Otis had puncture wounds in his leg, and still has a limp.
Zeus' owners, Jennessa Ware and James Greene, had left Zeus with a friend, and he wiggled out of his collar and escaped.
"I was like, really, he did that? He's never been aggressive towards people ever," Ware says.
Police say Zeus was likely used as a bait dog in bloody dog fights before Ware and Greene adopted him from someone on Craigslist. They say they'd do anything for Zeus. Greene is near tears.
"I don't want to see my dog die. He's my child. I don't have children, so he's my child," Greene says.
A hard choice
Ware tells the court that training pitbulls is a lifelong hobby of hers. But she's never taken her dogs to obedience school and says she can't afford a muzzle. Foster says he interprets Zeus' behavior as aggression that can't be held back.
"The dog was going for the throat and then down into into the body because then he wants to just eviscerate it," Foster says.
In a verdict issued days later, Foster decides to put Zeus down. He explains that if he let Zeus live, he'd need to be isolated from people and animals for safety until the end of his dog days. This was only the second dog Foster's decided to put down in a year.
He says that kind of ruling keeps him up at night. But he has to consider public safety, and how devastated the victim was because she couldn't protect her vulnerable Chow from harm's way.
"She's crying so much because she's thinking about her dog. She doesn't care that she's got 15 stitches in her arm," Foster says. "She's worried that her dog's limping now. That's the stuff that gets you."
In a dog-loving city like San Francisco, Foster says he strives to take into account the bond between people and animals.
"A dog's whole goal in life is to make you happy. And if you learn how to properly show them how to do that, you can have the best dog in the world," Foster says.
There's hundreds of dogs in San Francisco looking for homes, tails wagging, tongues on full display, eager for attention and affection and treats. But what some of them really need is a responsible owner who knows when to use a muzzle.
Zeus is gone now, but owner Jennessa Ware is still suffering from puppy love. She's says she's devastated to lose her dog, but she's not going to cry about it. She's already thinking of adopting a replacement.