Who are the famous people from East Oakland?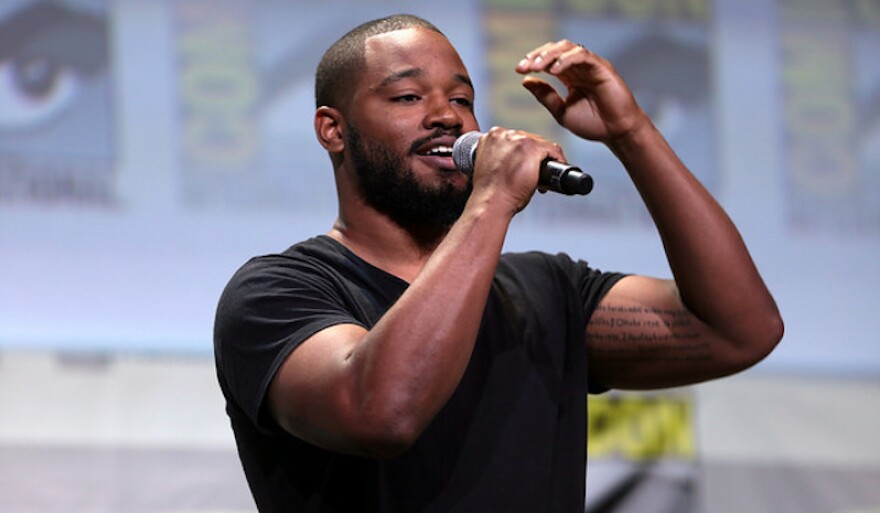 There are stars in East Oakland. Not just the ones in the sky, but homegrown, right in the community.
Third-generation East Oakland resident John Jones III reached out to our Hey Area team and asked, "Who are the famous people from East Oakland?"
Jones has a good reason to ask — he works as the political engagement director with the East Oakland Black Cultural Zone, which aims to end displacement of Black residents, and preserve Oakland's Black arts and culture.
Music
Jones partnered with KALW's Jeneé Darden on this story. Together they came up with a long list of names. She's also from East Oakland and grew up near the Fruitvale community.
"I grew up in what some people call Deep East Oakland," Jones says, "aka Baby Iraq, aka the Killing Zone."
Jones and other locals call that are the Killing Zone because of the violence in the area. Some of the Bay Area's best-known rappers made life in those tough surroundings part of their art.
"I'm 44," says Jones. "So of course I grew up listening to Too $hort, one of the pioneers of West Coast hip-hop" who stood out for rapping about "things that we saw, like pimping, drugs."
Before hip-hop, old school artists put Oakland on the map as a city with musical talent — from jazz and blues clubs after World War II to soul-funk bands in the 1970s.
One shining star from that decade is Latin jazz great Pete Escovedo. He's best known for his percussionary sounds.
Escovedo and Too $hort's Oakland experiences are drastically different.
Too $hort knows East Oakland's gritty side from the 1980s. Twenty years earlier, Escovedo lived in a low-crime era of East Oakland, about a mile from Highland Hospital.
For Escovedo, living with his family motivated him to reach high.
"Well you know at that time Oakland was more and more safe than it ever was," recalls Escovedo. "So the kids were always out in the neighborhood playing in the street. Those were the days when you had to yell and say, 'Come home for dinner,' right?"
The 82-year old percussionist was born in Pittsburg, California, but lived in East Oakland off and on with his wife and kids. His wife Juanita, was the family breadwinner.
"I was the home daddy," says Escovedo. "I took care of the kids and then played music at night. We moved quite a bit because there were times we couldn't pay the rent."
It wasn't until 1972 when he and his brother went on tour with Santana that his career began to take off. Escovedo eventually left Oakland, but says he owes a lot to the time he spent there.
"You know you just keep trying," he says. "You keep chasing the stars."
Hollywood
While Pete Escovedo was chasing his dreams, four miles away another star in the making was kicking open doors for himself.
Some people may be surprised to know that Bruce Lee lived in East Oakland, near Mills College in the Maxwell Park neighborbood.
"And he opened two martial arts classes. One was in North Oakland. The second one was in Maxwell Park," says Jones.
Teaching in Oakland was a turning point for both Lee's career and martial arts.
In 1964, a martial-arts master from San Francisco challenged Lee to an epic fight that went down behind closed doors in Oakland.
They agreed Lee would stop teaching non-Chinese students if he lost. The fight only lasted a few minutes. Afterwards, Lee continued teaching anyone who wanted to learn. A few years later he became a box office hit.
Lee isn't the only actor who spent time in East Oakland. Actor Tom Hanks lived in the Fruitvale District as a kid. And one little boy would grow up to to make one of the highest grossing superhero movies ever.
Ryan Coogler's father confirmed with KALW that the director of the Marvel Studios smash hit "Black Panther" lived on 80th Avenue in what is referred to as Deep East Oakland.
When "Black Panther" came out, Coogler came back to Oakland to talk before a screening at the Grand Lake Theatre.
"There's nothing I love more than the Bay Area," he told the crowd. "My father used to take me here to go see, whatever movie he thought a Black father and Black son should come see together. He took me here to see 'Boyz in the Hood' when I was like four years old."
Sports
There are athletes from East Oakland who play all kinds of sports around the country. One of John Jones's favorites is basketball's Gary Payton.
"I mean, he's literally one of the greatest point guards," says Jones about the retired star.
Payton played for the Seattle Supersonics most of his career and won a championship with the Miami Heat.
Jones also highlights NBA player Damien Lillard's talents and philanthropy.
"He's right now … one of the greatest young talents in the game today," says Jones. "But he gives back and once again, he's from Brookfield," an East Oakland neighborhood.
Lillard currently plays for the Portland Trail Blazers. One of the ways he supports his home community is by hosting an annual picnic at Brookfield Park.
Kids get free food and sometimes shoes. It's the same park where he used to shoot hoops as a kid.
Of course some East Oakland athletes played for their home teams, such as pitcher Dave Stewart, who helped the A's win the 1989 World Series.
The fandom you see for the Warriors today is how it used to be for A's back in the late '80s and early '90s. You couldn't walk around Oakland without seeing someone in an A's jersey or starter jacket. Kids dreamed of being ball boys, or girls, for the team.
Entrepreneurs
And as it turns out one of the very first ball girls in the major leagues is famous today — Debbi Fields, founder of Mrs. Fields cookies.
Fields was 13 when she first sparked her cookie magic in her Fruitvale home. The money she made as a ball girl for the A's allowed her to really kick off her baking career.
"The turning point was when I took my check I went shopping and I walked down the shopping aisles and I bought real butter," she says. "I went home and I whipped up a batch of cookies, I took a bite and I said, 'Butter taste better.'"
Fields turned her cookies into an international business. She says Oakland prepared her for sweet success.
"Oakland taught me to be strong, to be tough and to dream that I could achieve a better life by my willingness to work so incredibly hard and be the best that I could be," says Fields.
Jones says Fields' success story reminds him of MC Hammer.
"He's probably one of the most famous people to come from East Oakland," says John. "In the hip-hop world, [he] opened the door for other hip-hop artists to really get paid."
Hammer spent a lot of time in East Oakland. He also worked for the A's around the same time as Debbi Fields.
The players gave him the nickname "Hammer" because he resembled the icon Henry "Hammerin' Hank" Aaron.
Hammer sold tapes out of the back of his car, which Jones said a lot of rappers did that back in the 1980s.
"That hustle is also an Oakland thing," Jones adds.
Jones says it's important that Oakland kids know examples of people who hustled, who made it, and who came from the same place as them.
He says that's why he sent this question to Hey Area.
"I want the youth in particular to know that no matter what your circumstances are," he says. "You have the ability to overcome — because people have done that before you. You're not just coming out of a ghetto. You're coming out of a rich fertile soil that will allow you to do anything that you set your heart, mind and will to do."
Famous people from East Oakland, including those not mentioned in this story, didn't make it with hard work alone. The community gave them a boost as they reached for the stars, until they each, eventually, became one.
This question came to KALW through Hey Area, a crowdsourced, collaborative reporting project. Got a question for Hey Area? Ask it below.
00000178-8378-dfdf-a97c-cf791ef70000