Step inside Fresno's high-speed rail construction site
This is Part 1 of a four-part series about high-speed rail in California. Part 1: First Stop, Fresno. Part 2: Corn nuts and the bullet train. Part 3: Will the train be affordable?. Part 4: San Jose to San Francisco — easier said than done. Listen to the whole show: Inside High-Speed Rail.
California's high-speed rail system is the biggest infrastructure project in the state. In 2008, voters approved funding for the bullet train that would get passengers from San Francisco to Los Angeles in under three hours.
Governor Jerry Brown has staked his legacy on its completion.
But right now, high-speed rail's fate is hanging on the new administration in Washington, DC. President Donald Trump has promised to invest in infrastructure — including trains. But California Republicans in Congress have urged the Trump Administration to hold back a grant that's considered crucial to the bullet train. This week, the U.S. Department of Transportation will decide whether to keep the grant in place.
High-speed rail officials say the budget is now $64 billion. And it could increase. Last month, the Los Angeles Times cited a new Federal Railroad Administration study that says a portion of the project that runs through the Central Valley could cost taxpayers 50 percent more than expected.
But in Fresno, construction has already begun, two years later than planned.
Inside high-speed rail
If you want to literally get a peek inside California's biggest infrastructure project right now, head to the Fresno River Viaduct, a big bridge that's being built to carry high-speed rail trains over the Fresno River. It's big enough that you can actually walk inside it.
Eddie Moreno, a construction worker from Redwood City, shows me around. He's been living in Fresno, working on this project for the past year.
Once this bridge is finished in spring 2017, it will be the first permanent piece of the high-speed rail project completed since construction began a year and a half ago.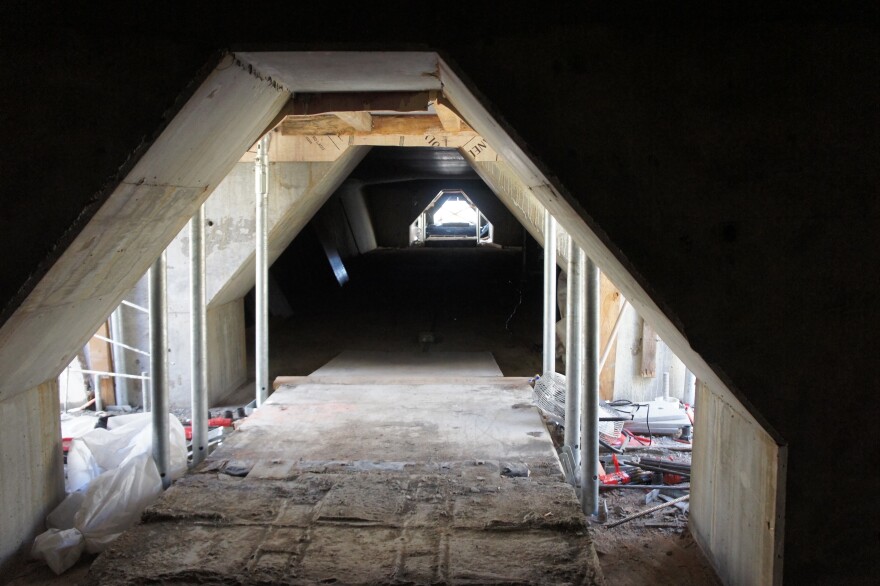 Inside, it's dark. There are metal cables and giant piles of rebar. Moreno uses words like 'bents', 'girders' and 'deck legs' to describe all of this construction. But the people who are managing this project — the High-Speed Rail Authority — are more concerned about the larger picture, what will run across this bridge 15 years from now: 200 mile-an-hour trains.
Northbound, the trains will be speeding toward San Francisco. Southbound, the trains will zoom past Fresno and the Tuolumne Street Bridge, which is close to downtown Fresno. It's a short, two-lane bridge that's been reconstructed to make it high enough for the bullet train to go under. That's where I meet Toni Tinoco, a High-Speed Rail public information officer.
Tinoco tells me these specific construction sites — the Tuolumne Street Bridge and the Fresno River Viaduct — should be finished by the end of this year, two years after they began. That's good news, she says.
But this project hasn't been without major hurdles. For starters, a 2012 poll found that more than half of Californians would vote against high-speed rail, if they could vote again. The costs have fluctuated, between the original $33 billion to $98 billion to $64 billion. That's the most recent projection.
"And that obviously sounds like a lot of money," says Dan Richard, the chairman of the High-Speed Rail Authority. "It is a lot of money."
The budget
"But here's the thing that I think is often missed when people talk about high-speed rail," Richard explains. "This isn't just some luxury that we've decided we should go out and do. We have to start with looking at what California is going to look like in 15 or 20 years when we're going to have close to 50 million people in this state."
RICHARD: And that obviously sounds like a lot of money. It is a lot of money.
That's more than 10 million more people than we have right now. He thinks if we don't spend money on high-speed rail, we'll have to spend it on other kinds of transportation. So, Richard thinks the big investment is worth it. The thing is, the Rail Authority doesn't have all of that money yet.
"Right now we have about three, three and a half billion dollars of federal money and about $9 billion of state bond money," Richard says.
The high-speed rail authority has also beenpromised a percentage of money from the state's cap and trade program.
But it's unclear how much money that will be. All in all, the rail authority is still short almost $50 billion.
"So we don't have all the money, but we have big chunks of the money," Richard says.
The High-Speed Rail Authority hopes that once this initial stretch from Fresno to San Jose is completed in 2025, private companies will come in and run the train.
"They would write us what we hope would be a very large check for the privilege of doing that and they would collect the fares, they would operate the trains, and they would try to make a profit," says Richard.
RICHARD: This is certainly taking longer and costing more money than people thought at the time.
This is still just speculation, though. There are a handful of lawsuits trying to delay construction of the train by challenging the oversight of the project, and way the authority is allowed to use the bond money. Even without the lawsuits, construction is already two years behind schedule.
"This is certainly taking longer and costing more money than people thought at the time," Richard says.
Other delays
Toni Tinoco says this had a lot to do with acquiring properties that the train has to go through, something she calls "impacting."
Around Fresno, they're impacting a few gas stations, a Starbucks, and a few residential areas.
"We do relocate people we are impacting, so it may take a little bit longer to negotiate with a property owner," say Tinoco. "It may take longer to relocate them somewhere else."
TINOCO: This is a very large project, and this project does take time to build, so we're in the middle of it.
So far, the High-Speed Rail Authority has only acquired a fraction of the land it needs. And last spring, the authority decided to switch the route for the first phase of construction. Instead of building the first segment from Fresno to Bakersfield, the High-Speed Rail Authority decided to build north from Fresno to San Jose.
"It seemed more realistic to go north, to perhaps get some interest from other private industries to invest into our project," Tinoco says.
Another reason rail construction didn't go south first? Because there's a big mountain in the way. Tunneling through the Tehachapi and San Gabriel mountains outside of Los Angeles will be really expensive.
"This is a very large project, and this project does take time to build, so we're in the middle of it," Tinoco explains. "It is going to take that patience, it's going to take that trust from people in the [Central] Valley and statewide for us to be able to do this job. People are working day in and day out."
Tinoco thinks the train will bring more jobs and growth to the Central Valley, a place that has some of the highest unemployment rates in the state.
"The city of Fresno [has] seen a lot benefits from just our construction crews being here downtown," she says.
The High-Speed Rail Authority thinks that once the train is speeding back and forth between Fresno and San Jose, people will start moving to Fresno permanently, and businesses will follow.
But improving downtown Fresno isn't really what high-speed rail is about, after all. When you ask people like Chairman Dan Richard, or Toni Tinoco, they'll tell you it's about something bigger.
"We are building a high-speed rail system that will connect Southern California and Northern California," Richard says.
"It's something that the nation has never seen before, it's really trying to get people off the road, to try to promote a different way of traveling," Tinoco adds.
A future California
Five million more people will be living in California by the time high-speed rail is projected to be finished. That's going to result in a lot more car trips and traffic jams — and a lot more smog and greenhouse-gas emissions. 
If it's constructed in time and carries enough people, high-speed rail could help cut back on this. But by how much is yet to be seen, because no one knows how exactly many people will actually ride it.
"We're not just about building a train," Richard says. "We're trying to help build a future California that is more environmentally sustainable."
Fresno is the halfway point of the entire high-speed rail route, right in between Los Angeles to San Francisco. The mockups of Fresno's train station show a sleek and shiny glass-roofed terminal. If you want to get to San Francisco, you'd go inside and pay $70 for a one-way ticket — that's what current projections are saying the cost will be — and whiz north.
You'd pass under the Tuolumne Street bridge we visited earlier, over the Fresno River bridge, and right through Kole Upton's Corn Nuts Farm.
To see how the bullet train will affect farms like Upton's in the Central Valley, please listen to the next segment in this series.