Crosscurrents is our award-winning radio news magazine, broadcasting Mondays through Thursdays at 11 a.m. on 91.7 FM. We make joyful, informative stories that engage people across the economic, social, and cultural divides in our community. Listen to full episodes at kalw.org/crosscurrents
San Francisco Is Turning Gray — One House At A Time
Mission District, San Francisco, 2019.
Sergio De La Torre / Cropped
Mission District, San Francisco, 2019.
Sofie Kodner
Mission District, San Francisco, 2019.
Sofie Kodner
Mission District, San Francisco, 2019.
Sofie Kodner
Cow Hollow, San Francisco, 2019.
Sofie Kodner
Cow Hollow, San Francisco, 2019.
Sofie Kodner
Alamo Square, San Francisco, 2019.
Sofie Kodner
When Sergio De La Torre first moved to San Francisco, he was struck by the variety of colors that dressed the city's homes. In his neighborhood, houses were painted with every color of the spectrum. Today, though, one color is taking over the rest: Gray.
Sergio is an artist and photographer, who in the last year has documented at least 175 freshly painted gray homes around the Mission District. But why gray and why now?
SERGIO DE LA TORRE: Buenos dias. We are going to go to the left.
I'm on a walk with Sergio around his neighborhood. There's something he wants to show me.
DE LA TORRE: This is the one
He points to a house down the street. I spy it over a line of ficus trees that shade the city block.
DE LA TORRE: So I woke up one morning and that house was painted gray, and you can see it from here. That was the first gray house that I saw.
The house he points out looks like a typical old San Francisco Victorian. Well, in its shape at least. It reminds me of the famous Painted Ladies, which are these extravagantly detailed, colorful houses. But this house isn't colorful.
DE LA TORRE: And I saw the scaffolding, I saw them painting every single day. And I was like, what was happening?
Sergio tells me that this house used to be a recovery house, for people with mental illness, its residents would walk around the neighborhood...
DE LA TORRE: You could see them, they were mentally unstable. They were wearing pajamas, their hair was all messed up, smoking cigarettes, scratching their heads, making random movements. And they were part of the neighborhood.
Sergio grew up around all kinds of people in his family's neighborhood in Tijuana, Mexico.
DE LA TORRE: You see people that were not necessarily, you know, quote-on-quote "normal," but they are part of who you are in this neighborhood.
Now, the recovery house has been split into multiple units, and each flat goes for more than $4,000. Sergio sees only one of the prior residents still hanging around the Mission.
DE LA TORRE: Walking around the neighborhood I notice more gray houses.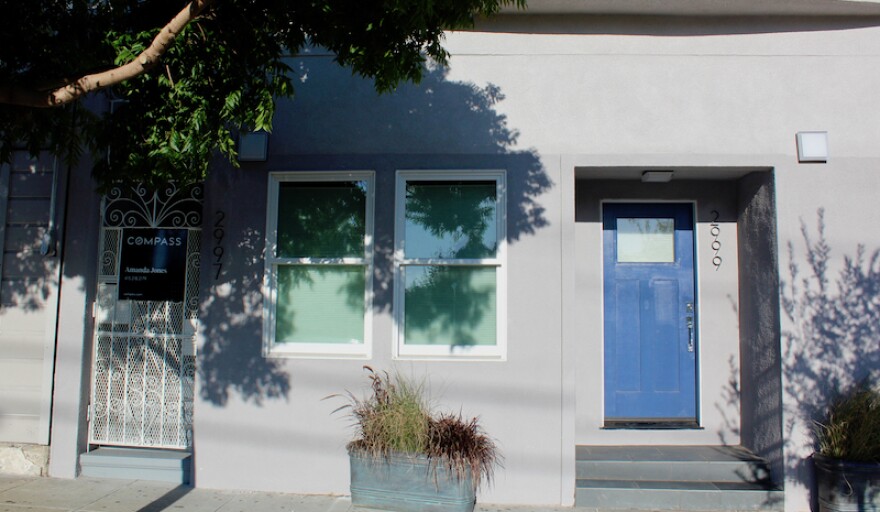 Mission District, San Francisco, 2019.
Within just a couple of blocks, we see several.
DE LA TORRE: We can cross
There's a dark gray house.
DE LA TORRE: It's like a charcoal house
There's a big gray house.
DE LA TORRE: There's another gray building, the entire building is gray, two-story.
Almost all of them have a few key features: Dark to light gray paint. House numbers made of out metal…
DE LA TORRE: That's another one. Another gray house with san serif numbers.
Often, you find a colorful accent.
DE LA TORRE: And a yellow door.
I prepare for these gray houses to follow me home. It's one of those things where once you notice it, you see it everywhere.
DE LA TORRE: Oh my god another one.
Pacific Heights, San Francisco, 2019.
The paint looks fresh. Many still have a "For Sale" sign in the front yard. But as I leave Sergio, I wonder: How new is this gray, really?
TANU SANKALIA: Let's just go back to the choice of color and let's look at it historically.
Tanu Sankalia is the program director of Urban Studies at the University of San Francisco. I sit with him at his home-office in Berkeley.
SANKALIA: So, 1850 to let's say 1905 you get this great period of construction.
With the invention of new tools, wood could be bent and curved and shaped as desired - for the first time. That's why we get the detailed, ornamental style Victorians are known for. And significantly for this story, wood begs for paint, more than other building materials.
SANKALIA: We have a number of somewhere close to 50,000 houses being built during this period.
San Francisco's historic Haas-Lilienthal House, built in 1886, was recently restored to its original color, pictured here: A sedate olive green-gray called "armored steel."
...And they're painted with subdued, earthy colors, including gray. By the 1940s, the second World War, the Bay Area emerges as a hub for building ships for the navy, which leaves behind a surplus of paint - battleship gray paint.
SANKALIA: And a lot of people got their hands on it and painted their houses gray. There was a kind of a desire to be austere, during the austerity measures during the world war. There was probably a desire to stay somewhat unnoticed.
Two decades later, the tone of the country changed.
SANKALIA: People who emerge in the 60s with the hippie era, and the sort of freedom and self-expression and so on, and they take on these houses and start doing something with them.
Haight-Ashbury, San Francisco, 2012. The term "painted ladies" was first used in 1978 by writers Elizabeth Pomada and Michael Larsen. In American architecture, painted ladies are Victorian houses and buildings repainted in three or more colors.
It's called the Colorist Movement. The paint on Victorians during this time made them feel funky and resplendent. Now, that's how a lot of people think San Francisco houses should feel.
SANKALIA: We also think of color as perhaps representative of certain ethnic groups.
Think of the colorful buildings of Mexico… I ask Tanu about the gray houses that artist Sergio de la Torre has been photographing in the Mission, a neighborhood that for the last few decades has been made up of largely low to middle-income Latin Americans.
SANKALIA: It instantly becomes a signifier for something, and we want it to be a signifier of something. There's a tendency to reduce that signifier very quickly to the idea of gentrification.
….That's because so many people moving in are younger and wealthier, and may like their houses as gray as their MacBook computers.
CAROL KOFFEL: I wouldn't mind buying that one, that's the problem being in this business 2.9, 2.3 that's good…
Carol Koffel and I are huddled over her laptop in an office of her real estate company, Vanguard. Carol is a real estate agent and a color consultant.
KOFFEL: Okay, welp, here's one.
We scan open house listings and Pinterest, seeing the gray trend way beyond San Francisco.
KOFFEL: Gray Victorians ... In London, they've been doing this for years.
Same thing in Toronto. You can see the grey on Washington, DC row houses, and in Trondheim, Norway, where the gray trend has spread like an oil spill since the early 2000s.
KOFFEL: We live in a world that's so full of information and when you look at a Victorian home that's fully painted, it's a little busy for our eye.
With gray paint, she says, you let the architecture speak for itself, you draw the eye upward with lighter values, to give the illusion of increased height, and done correctly...
KOFFEL: ...Your own home is standing out because it is different but in a quiet way.
But what about when there are multiple houses on the same block, that are all painted gray?
KOFFEL: If the house next door is painted gray and your house is gray and the one next door is gray, it won't work.
Just like fashion goes from the runway to the department store, the gray trend has spread from architects to house flippers. At the start of the trend in 2014, a real estate site, Curbed SF, mapped the city's most money-making housing flips. More than one-third of the houses they listed had a gray exterior.
And while Carol still believes that gray paint can quiet the mind, as the trend multiplies, artist Sergio de la Torre can't help but see the opposite.
DE LA TORRE: Yellow house, green house, blue house, gray house — you know — they're very loud.
Gray can be considered a mute color, a non-color, even. But to Sergio, these gray houses are loud, as loud as the changes happening in his city. Like the evictions, police brutality, fires, and the threat from Immigration and Customs Enforcement, ICE.
DE LA TORRE: All of these events that are loud and violent and really affecting the neighborhood, suddenly there they are these gray houses, kind of mute color. And I question that. Why a mute color now? If anything, you cannot be mute, you cannot be non-color, you cannot be simple right now.
But Sergio knows that equating gray with gentrification is oversimplifying things, too. He's looked into the backstory of 60 of the houses he's photographed. Only 4 were evictions. Actually, Sergio's neighbor's house was hidden behind scaffolding when we walked by. Do I even have to tell you what color he's painting it?
DE LA TORRE: And I was like, why gray? Because it's a simple color. How is it simple? I don't know, it's just, like, modern and elegant. I'm tired of these Painted Ladies. I don't want color like this house next door, I just want a flat house.
Houses are typically repainted every seven or so years. And although gray has a long history here, the next trend in house paint has already arrived: All-white. Fair to say I don't think Sergio will be happy about this color, either.
The public program After The Ashes, The Curious Case of Gray Houses in the Mission, Sergio De La Torre in conversation with Tanu Sankalia took place at KADIST on July 17, 2019.