Neon soapbox: The politics of Oakland's Grand Lake Theater marquee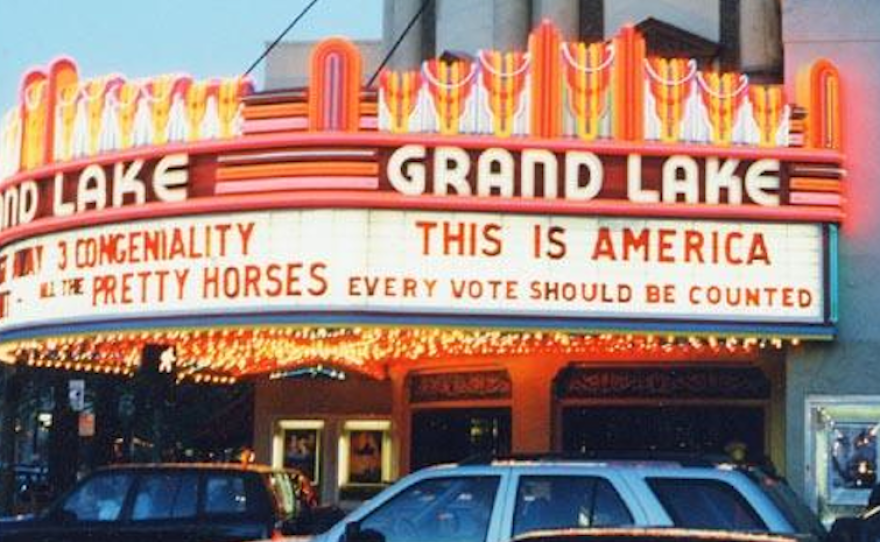 Following the Supreme Court decision to stop the vote count in Florida, during the 2000 presidential election, theater owner, Allen Michaan, began posting messages on the marquee.
In a more recent message, Michaan urges residents to attend an upcoming City Council meeting.
Just northeast of Lake Merritt, across the 580 freeway, you really can't miss it. It's big, it's public, it often contains inflammatory messages, and it's neon. And, after nearly two decades Allen Michaan purchased his political soapbox for 3.75 million dollars and can't wait to start renovations and put it in the National Register of Historic Places.
It's the Grand Lake Theater.
"I've been the operator of the Grand Lake Theater since 1980, and I started posting political messages on the marquee on the day the so-called Supreme Court stopped counting the votes in Florida in 2000," Michaan says. "The first message was, 'This is America. Every vote should be counted.'
I join Michaan to look at photos of messages that have appeared on the marquee over the years. How many?
"I have no idea," he says. "At least a few hundred."
Some are about local politics, like parking issues. Others are national.
"We rail against the war constantly," he says. "We've been pleading with Governor Brown, lately, to stop the abomination that is fracking."
Michaan flips through some photos and finds one that shows the message he posted: "Dear Gov. Brown, fracking poisons our air and water and causes earthquakes. Ban fracking in California now."
He flips through a few more.
"Here's a good one," he says. "'Truth is to the Bush administration as sunlight is to Dracula.'"
The majority of the marquee messages have a single focus.
"One of the big issues that I have focused on over the years with the marquee is to point out that American elections are absolutely fraudulent," he says. "I am extremely concerned about the fact that the use of electronic voting machines and electronic tabulation of votes has destroyed the freedom of the citizens of this country. I believe this entirely."
So Michaan has a very big, very visible platform to broadcast his political opinions. And what does the city of Oakland think about that? I asked Scott Miller, who works with the City of Oakland's Planning and Building Department, which regulates signage.
"The city in no way wants to curtail the public's right to free speech, and that marquee's one venue for doing so," he says. "And what it says is really not within the purview of zoning to dictate. We don't dictate what some business owner should say. We just develop parameters for size and we do not deal with the content."
So, on any scale, big or small, what do you need to know before putting up your own political poster or flyer?
"Those generally would fall under the special sign category, and there really is no code spelled out," says Miller. "The allowance says, 'Special signs shall be limited to the area of display, surface, number, location, and height and kind of mobility, illumination and material that are customarily and necessary to the purposes they serve.' So that's a lot of bureaucratic gobbledygook. I don't know if the city's ever been sort of forced to indicate exactly what that means, but it certainly allows some flexibility, and it would allow the city to allow some discretion if it was called upon."
For signs relating to elections, regulations require that they not go up more than 90 days before the vote, nor stay up more than 10 days afterwards. And they can't be bigger than 32 square feet. But, according to Miller, given limited city resources, compliance is not heavily enforced, unless there are a lot of complaints.

This story originally aired in October of 2015.