Daily news roundup for Wednesday, June 24, 2015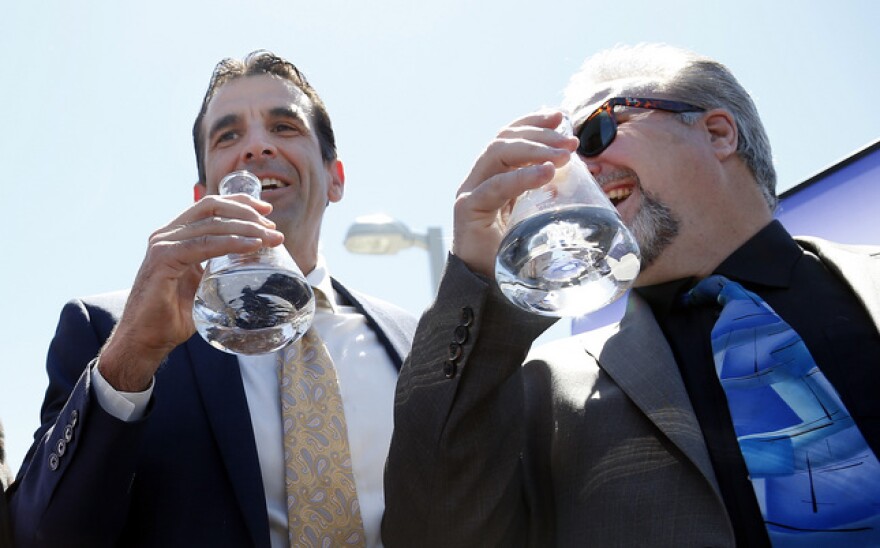 Here's what's happening in the Bay Area, as curated by KALW news:
Ominous new cracks found on Bay Bridge rods// SFGate
"Tiny cracks found on some of the rods on the new Bay Bridge tower potentially endanger the rest of the more than 400 remaining fasteners that secure the tower to the foundation in an earthquake, Caltrans officials said Tuesday.
"They also acknowledged that one of four high-strength tower anchor rods they have examined apparently snapped after it was exposed to water and became brittle. That was the same headache that cost the agency $45 million to fix in 2013 when 32 rods on seismic stabilizers failed after sitting in water.
Brian Maroney, Caltrans' chief engineer on the bridge project, said the microscopic cracks found on at least two rods lead him to believe that the problem could be widespread and that the rods could be repaired or even replaced if necessary. Nearly all the rods have been exposed to water, and about a quarter of them have sleeves that routinely flood with bay water within days of being drained."
-----
Support Grows in Bay Area for Toilet to Tap Water//Inside Bay Area
"Bay Area residents consider California's historic drought so dire that a majority say they would be willing to drink purified toilet water.
That's not the only finding in a Bay Area Council poll released Wednesday that used to be considered hard to swallow.
Many Bay Area residents appear to be putting aside some long-held notions about the environment, health and public costs to support bolder options to increase the water supply.
While 58 percent of those polled say they favor adding appropriately treated recycled water to the drinking water supply, 63 percent say they support building more dams and reservoirs, with 23 percent strongly in favor."
-------
Oakland Mayor Schaaf and Police Seek Unproven 'Predictive Policing' Software// East Bay Express
"Oakland Mayor Libby Schaaf is proposing to spend $158,400 over the next two years to equip the Oakland Police Department with so-called "predictive policing" software made by a company that claims it can map locations at which future crimes are likely to occur. Schaaf has included the purchase of the software — produced by the Santa Cruz-based company PredPol, Inc. — in her proposed 2015-17, two-year budget.
"OPD has been in contact with PredPol over the past several months to further research predictive policing software and to obtain a cost estimate for budget purposes," said Oakland Police Officer Frank Bonifacio about the proposal. Bonifacio said, however, that OPD will probably ask the city council for approval before making the purchase, and that no final decision has been made. The council's public safety committee has yet to review the proposal, according to council records."
-----

Newark high school gets gunfire-detection system// SFGate
"A Bay Area high school now has a security system that officials hope never goes off.
Students will return to Newark Memorial High School in the fall to find that a gunfire detection system installed last month is fully operational. The software, which officials said is the first of its kind at a U.S. high school, is meant to both quicken school reactions and minimize police response time in case of a shooting.
"I hope that we never have to use it," said principal Philip Morales. "But if we do, if it does go off, then we know what we need to do."
"Gunfire detection company SST Inc., which is in Newark, announced Thursday that the school will begin detection alerts in the fall using the company's SecureCampus system, audio-based software that alerts police and school officials of gunfire in seconds. SST is the same company that provides ShotSpotter technology to cities including San Francisco, Oakland and Richmond."