Audiograph's Sound of the Week: Bay to Breakers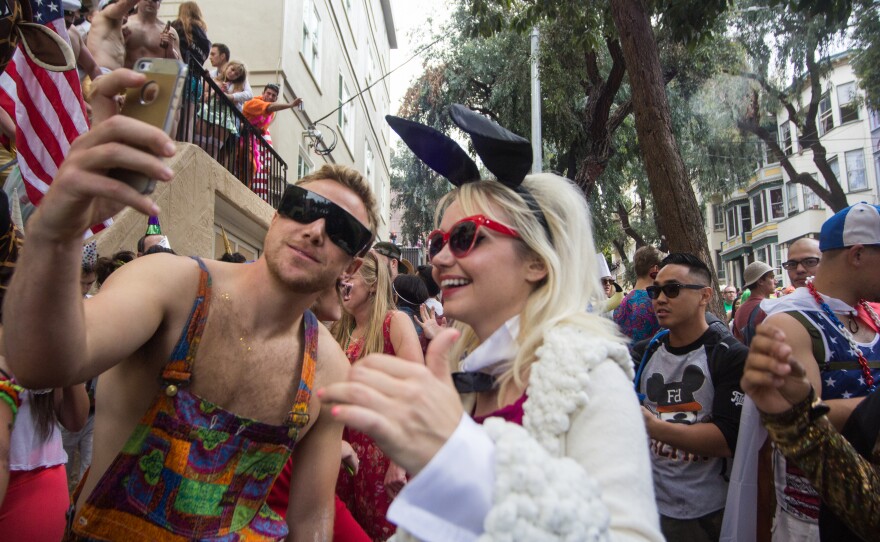 With reports of about roughly 50,000 attendees this year, the annual Bay to Breakers event served as the meeting place for a cross-section of people from across the Bay Area and beyond.
Liz Mak
Palmer Lamb dressed up as something sorely lacking in the Golden State: "I'm sort of the missing piece in California," he says. "And it kind of gets people thinking about rain."
Liz Mak
Bay to Breakers averages about 100,000 spectators each year: Two women watched the festivities from the sidelines.
Liz Mak
Taking advantage of the large, built-in audience, many impromptu concerts took place along the race path.
Liz Mak
All week long, we've been playing this sound, and asking you to guess what exactly it is and where exactly in the Bay Area we recorded it.
This auditory guessing game is part of Audiograph, a crowd-sourced collaborative radio project mapping the Bay Area's sonic signature. Audiograph tells the story of where you live, and the people who live there with you. Every Thursday, we tell you the story behind our weekly mystery sound on Crosscurrents, and here in weekly blog posts.
Listen above for the full answer...
CLAUDIA KELLERSCH: I've been nude in the Bay to Breakers every single year ... I'm wearing a little fanny pack where I'm hiding my underwear, and I have really good race running shoes. And I have a hat that says "Bare to Breakers!"
Congratulations to this week's winner, Matthew Smith!
Is there a sound from your life that should be featured on Audiograph? Call at 415-264-7106 and tell us about the sound of where you live.
Check out our Facebook, Twitter, and Soundcloud pages to hear more from Audiograph.