Daily News roundup for Monday, March 30, 2015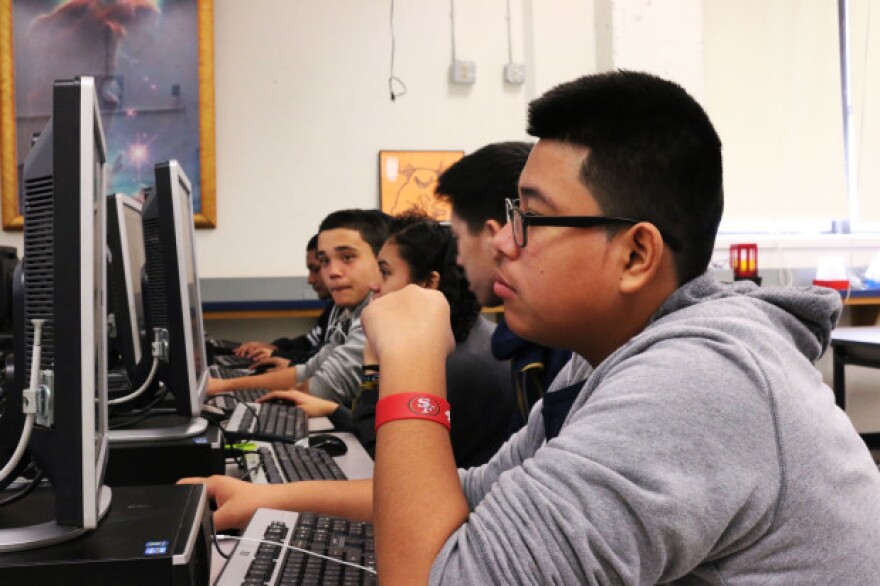 Here's what's happening in the Bay Area, as curated by KALW news:
Water Transfers Threaten Fish and Tribes // East Bay Express
"In Northern California, the Trinity River rises in the rugged Trinity Alps northwest of Redding, meanders through tight canyons and mountain meadows along State Route 299, and joins the mighty Klamath River at the Yurok Indian Reservation near Weitchpec. To the indigenous nations who reside in the Klamath-Trinity basin, the rivers' storied fisheries form the basis of their survival as distinct cultures.
"To the US Bureau of Reclamation, however, the Klamath and Trinity rivers are distinct for an altogether different reason. The main stem of the Klamath provides irrigation water to about 200,000 acres of farmland in a highlands desert region of south-central Oregon. And the Trinity is one of the two so-called "headwaters" of the Central Valley Project, the upper Sacramento River being the other. From the bureau's perspective, the watersheds' main function is to provide irrigation water for California's enormous agribusiness sector."
-----
Techies Teach Students with Mixed Skills // Mission Local
"It was first period at Mission High, and Aimee Menne moved among rows of 21 tired students at Mission High who are working on a program developed out of UC Berkeley meant to introduce beginners to computer science. The game is based on the familiar Hangman but requires students to think logically through a coding process, serving as a precursor to many computer science languages like HTML5 and Linux.
"'When they give a letter, where is it stored?' Menne asks two young, male students who seemed anxious. 'I know you both know this.'
"Menne woke up at 5 a.m. on a recent Thursday to get in a few hours of work before heading to Mission High to help teach the school's only computer science class. Menne is not a teacher but, rather, a project manager for Blackstone Technology Group, a software company based in downtown San Francisco."
-----
Documentary warns of Marin's 'silver tsunami' // Marin Independent Journal
"A Mill Valley-based TV producer and writer has created a documentary highlighting the rapid aging of the world's population and the likelihood that societies will be devastated by the task of caring for this burgeoning population unless scientists can find effective treatments for age-related diseases.
"Cynthia Harrison, a former actor who has written and produced television documentaries for the History Channel, said she was looking for a new project she could feel passionate about when a stunning complex of buildings in the foothills of Mount Burdell in Novato caught her eye."
-----
Barnidge: The only thing tougher than keeping DMC alive is letting it go // Contra Costa Times
"If Thursday's closure vote by the West Contra Costa Healthcare District truly marked the end for Doctors Medical Center -- we've learned not to carve its headstone too soon -- friends and supporters did not let it go gentle into the good night.
"A torrent of emotions, from anger to regret, flooded the hospital's auditorium, where a capacity crowd listened to the dire facts it didn't want to believe. An eight-page handout chronicled the succession of desperate efforts employed to keep the stand-alone hospital afloat."
-----
Hollywood meets Half Moon Bay in contentious year at Mavericks // San Jose Mercury News
"There won't be a Mavericks big-wave surfing contest in 2015, but there was plenty of behind-the-scenes drama during the competition's first year under new organizer Cartel Management.
"No storms are expected to push contestworthy ocean swells toward Northern California between now and Tuesday, when the window in which to hold the contest closes, according to Mark Sponsler, longtime forecaster for Mavericks, one of the world's largest and most-dangerous surf breaks."
-----
Jazz Search West // Living Jazz
"JAZZ SEARCH WEST is the Bay Area's Annual Jazz Talent Search for solo instrumentalists and vocalists (15 and up). Four exciting events provide exposure to 16 artists each week during the month of March. All performers are backed up by a professional rhythm section and receive valuable feedback from a panel of prestigious judges. Competitions are held in East Bay jazz venues such as the California Jazz Conservatory, the Sound Room and Piedmont Piano Company and are free to the public.
"16 performers are selected to move on to the Semi-Finals at the Freight and Salvage in Berkeley and 8 finalists perform at the Grand Finale at Yoshi's Oakland. 4 top winners are ultimately selected and awarded prizes designed to enhance their musical career such as a demo CD, recording studio time, full tuition to Jazz Camp West and performance opportunities."