Bay Area hackathon brings tech to youth of color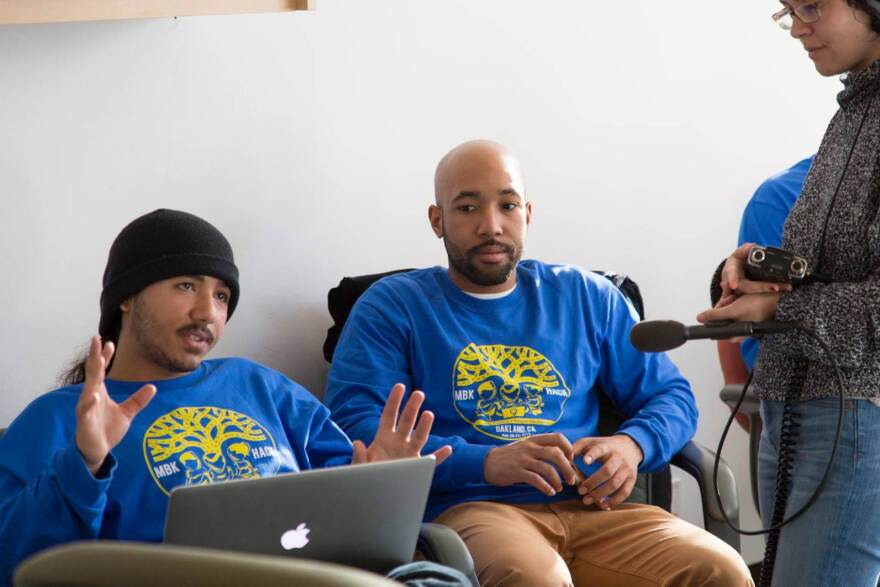 When President Obama launched the My Brother's Keeper initiative in 2014, he said he hoped it would help boys and young men of color find success. Here in the Bay Area, Qeyno Labs answered the President's call with an event called the My Brother's Keeper Hackathon. It's an intensive weekend challenge for young people of color to build mobile applications and websites that help their communities.
The Problem
George Hofstetter and Giovanni Vieira have a problem: they don't always feel safe walking down the street. For 14-year-old Hofstetter, who repairs computers in his spare time -- it's because of the police.
"I feel more nervous than a typical Caucasian American would," he says.
Hofstetter is black. And statistics support his nervousness: A recent review of Oakland police stops found that they are 4.5 times more likely to stop African Americans than whites.
Seventeen-year-old Vieira is more worried about the local gangs in his neighborhood. He lives near Stockton, and recently strangers attacked him on his way home.
"Two people down the street, minorities like myself, one bumps into me he asks, 'Where you from?', he tells me. "I don't respond because I know if I do respond it's not going to be the right response he wants. They kept beating me and beating me and the only reason they stopped was because they heard police sirens."
So this weekend, he and Hofstetter teamed up to build a mobile app that will address both of these issues. They're calling it Cop Stop.
"The goal is for teenagers like ourselves to be able to pull out our phones when we see a police officer or a group of teens who you may see as suspicious and look at the little quick tips and advice on how to handle that," Hofstetter says. And Vieira adds, "or take a look at the map and see where the hotspots are for gang related events like shootings or robberies."
The Hackathon
Vieira and Hofstetter only met two days ago, on the first day of the My Brother's Keeper Hackathon in downtown Oakland. Since then, they've been working with a team of professional designers and coders in an abandoned office on the 4th floor of the Kaiser building. By 8 a.m. on the last day, they're still busy putting on the finishing touches.
Tonight, the Cop Stop team will present their project to a panel of judges. One of the winning prizes is a summer tech internship in Mayor Libby Schaff's office -- Hoffstetter has his eye on it.
If you told him last year he'd be coding, he might not have believed it. "I couldn't see myself being a coder but now for the past year I've really gotten into it and I hope to major in computer science at UCLA," Hoffstetter says.
That's just what Kalimah Priforce is hoping to hear. He is the headmaster and CEO of Qeyno Labs, the company that organized the competition.
"Hackathons have been around for a while in Silicon Valley and Ivy League institutions, but if you walk into your average hackathon they are usually too white, too male, and too unhealthy," Priforce says.
So Qeyno is focused on diversifying. The company connects tech professionals with low-income black and brown youth, Priforce calls these youth Trailblazers.
"Trailblazers are young people ages 12-20, they are low opportunity youth, or we say high potential youth in low opportunity settings," he says.
Priforce was once a trailblazer himself. He grew up in a group home in Brooklyn, New York. He remembers the experience as very isolating -- he wasn't allowed, along with the rest of the kids, to go to libraries or museums.
"So one of the first things I did when I was eight years old was that I had a three-day hunger strike against my group home, in order to get more books into my group home," he says.
It worked. Now, he says, one of the first things he learned how to hack was his own isolation.
"If you want look at what really makes someone poor in this country, it is their lack of access to resources, their lack of access to knowledge, lack of access to those who may be able to improve their life outcomes," he tells me.
Priforce sought out those people and by age 16 had founded his own tech company. But he knows that kids can't always do that. Many schools can't afford to keep up with new technologies and communities may not have resources to help. But, he says, tough circumstances make these young people great problem solvers.
Trailblazers, he says, "wake up everyday knowing how to solve problems so why not have them solve problems that have to with technology with coding engineering and mathematics."
The Winners
At 4:00 p.m. people start to fill the large auditorium. The judges take their seats near the edge of the stage. Groups of youth, some as young as eight, walk in with their teams of mentors, all wearing blue long-sleeve shirts with the Qeyno logo on the front.
Group after group takes to the stage. There are apps that will fund computers for low-income youth, improve young women's self-esteem, and make children's books free and digitally accessible.
Towards the end of the event, Oakland Mayor Libby Schaff takes to the podium. She says she feels inspired but also a little depressed.
"The idea that our young people need an app to navigate interactions with the police. That says something to me, that we in government need to fix some things," she tells the crowd.
Then Priforce takes to the stage to announce the winning teams.
"The biggest impact award goes to No Suspend and Cop Stop," he shouts out.
Cop Stop and the app No Suspend are both recognized for having the biggest community impact. It's not first prize, but Vieira and Hofstetter will receive a scholarship to a business accelerator program that will help them see their idea through.
Then, Priforce gives out the final award for outstanding trailblazer -- the one that comes with the prize of an internship with Mayor Schaff.
"That outstanding trailblazer is... drumroll please... George Hoffstetter!"
Hoffstetter walks to the stage with his mouth open. He's completely in shock.
After the event, people are hugging, laughing, and exchanging contact info. Hofstetter and Vieira are congratulated from left to right. One of their mentors gave each of them a brand new MacBook laptop on one condition -- that they code every day. Vieira doesn't have a backpack so he carries his in a brown paper bag and hugs it closely to his chest.
When I check in a few weeks later, Vieira says he hasn't been able to code -- he doesn't have wifi at his house, so it is hard to get the work done. Problems like this mean he's not sure he'll pursue tech, but he says he's grateful for the opportunity. Meanwhile, Hofstetter says he has been coding every day, and he wants to make Cop Stop public by this summer -- so both his and Vieira's work can help other people like them.
-----
EDITOR'S NOTE: Qeyno is working with its partnership to provide Giovanni Vieira free internet access at home.