A centenarian reveals the keys to longevity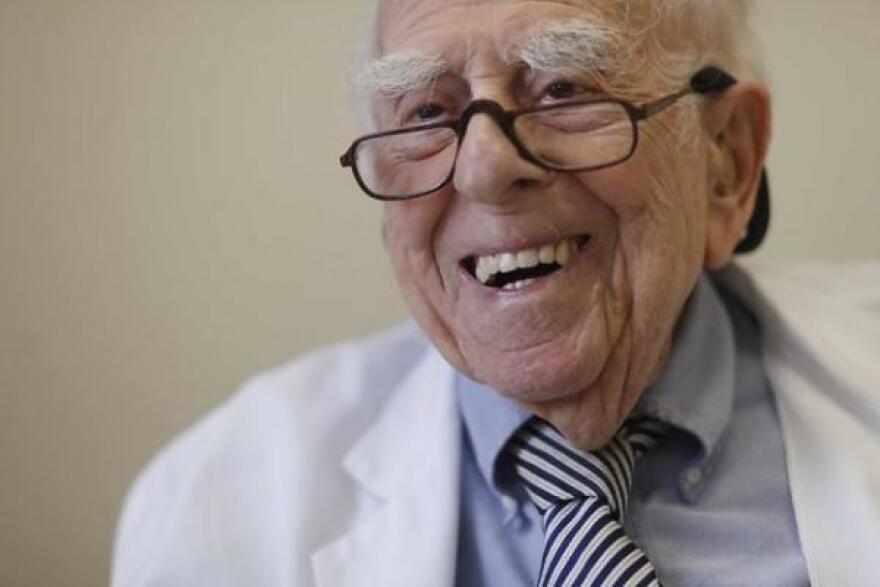 A lot of the change we're seeing in the Bay Area is happening rapidly. Neighborhoods, industries, and infrastructure are transforming right before our eyes.
Now, just imagine how much things have changed in the last hundred years. Well, 103 years, to be precise.
1911...Back then, you got around the Bay Area by boat - the Golden Gate and Bay Bridges wouldn't exist for another couple decades. Silicon Valley was rural farmland, filled with fruit trees and cornfields. William Howard Taft was president, Orville Wright kept a glider airborne for almost ten whole minutes, and we were still a few years away from the start of World War I.
1911 also marked the year that Dr. Ephraim P. Engleman was born. He directs the Rosslyn Russell Medical Research Center for Arthritis at UCSF, and he just released a book called, 'My Century.'
Today is his birthday. In this story from our archives, KALW's Martina Castro asked him to share some of his rules for living.
MARTINA CASTRO: Everyone in my office wanted me to ask you what the secrets were. DR. EPHRAIM ENGLEMAN: I sort of anticipated this question, here are some suggestions: Choose the right spouse; encourage sex – with your spouse that is; enjoy your work, whatever it is; exercise only if you must – don't fall, now that is the important one, don't fall!
Click the audio player above to listen to the conversation.
The photo above of Dr. Engleman first appeared in the San Francisco Chronicle.
This story originally aired on January 10, 2013.