Urban Debate creates an alternative platform for students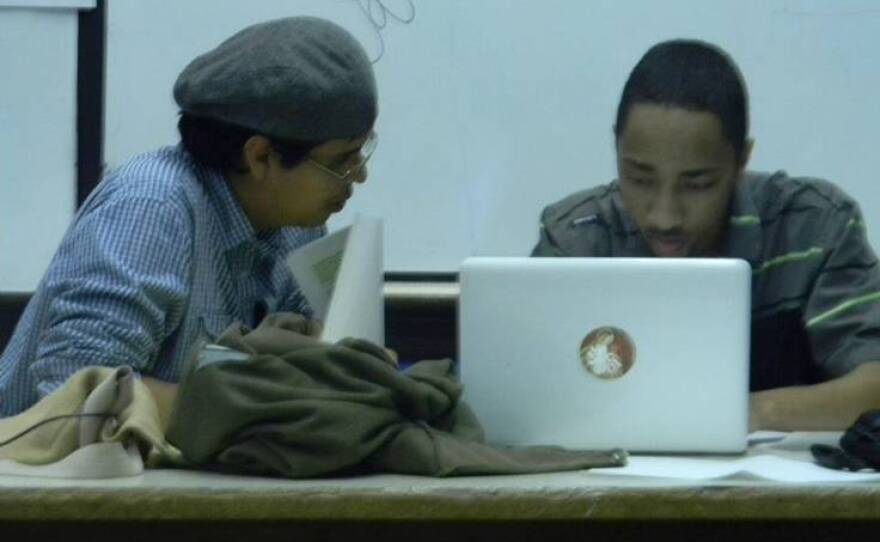 Urban Debate has existed since 1985 and has continued to evolve – making it a national and local phenomenon. The Bay Area Urban Debate League sponsored a recent tournament at UC Berkeley, where 400 Bay Area high school students showed up ready to debate.
"We as members of the debate community demand that the United States Federal Government should substantially increase its transportation infrastructure in the United States by revealing ongoing racialized violence in transportation and infrastructure," says one debater.
The topic this round is transportation infrastructure. The teams are Skyline High School vs. Cal Prep Academy. Debater Leonard Oscar Irving Thomas, otherwise known as Prodigy on the Beat, is a 15-year-old sophomore at Skyline. He sometimes relies on a developing urban debate style: "rap-debate" or what Thomas calls "being narrativical."
"By being narrativical," Thomas explains, "we are using personal narratives – personal stories – to build it … I was using a personal experience as a fact – yeah there was a shooting at my house last week the week before that and the week before that so I'm bringing it in there to express what the problem is instead of using evidence from some Harvard Professor that's never actually been in an urban area because we are the experts because that's where we live."
Unlike traditional debate, which relies strictly on research and hard evidence to win the argument, urban debate allows for personal stories. That appeals to Thomas.
"I ended up loving it for the same reasons I love rap – because I can express my ideas in a free open world and have people listen, which is something I have been craving for years now," he says. "Urban Debate offers a forum for students who feel limited by the norms of traditional debate."
Norms are regularly challenged in Urban Debate. Balboa High debater, Miranda Pettiford is no stranger to questioning the rigidity of debate structure.
"If you want to do more education than a Parliamentary debate style or open forum would be better than coming in with a policy debate with a plan like this," says Pettiford.
Pettiford is referring to Thomas' plan to start a movement to liberate the oppressed by educating minorities about the history of racial violence against them. She argues against the debate structure of timed rounds, saying that it doesn't allow for plans such as Thomas' to take flight.
Urban Debate encourages unconventional debate styles like Thomas' – but Urban Debate also adheres to the structure of traditional debate, where two opposing teams formulate pro and con arguments and strict time limits are enforced. Despite these formalities, debaters are able to create impassioned arguments that are relevant to the debater and his or her community.
Thomas came to urban debate about a year ago. He's been rapping since the third grade – before getting involved with the Skyline debate team, he realized his rap was going nowhere because the songs were all about money, cars, and women, like everybody else's.
"Honestly I didn't even feel I was doing as good as a regular rapper and talking about all of that but then as soon as I stepped into something I felt was beneficial and felt like meaning and I really wanted to do that," Thomas explains.
Debate gives Thomas a new platform for his rhymes and the opportunity to cultivate a new style. He says debating has helped him change his own life, too.
"Man, when I started in debate I had a 2.5 [G.P.A.] and now I hold here with a 3.86 and I learned about the different ways the government works and I learned about society simply because of the government. Also, if debate can help me out I am no particular instance it can help out my peers," says Thomas.
The tournament ends with a trophy ceremony. Skyline High does pretty well: Thomas and his partner take second place.
"You get to grace the stage for one minute to a song of your choice," the announcer says.
Skyline High School debaters dance for a minute of M.C. Hammer glory. They have the most debaters at the tournament out of any school. Thomas moves confidently at the front of the crowd, knowing he not only has the title of Best Varsity Speaker, but he has found a community to express himself.
Kim Ip is a student reporter at Mills College in Oakland.