Bay Area Sudanese protest with their countrypeople
Sudanese Americans and expats in the Bay Area are spending their days and nights online these days – getting little sleep, calling home multiple times a day, checking on the safety of their family and friends, hoping for good news.
Including myself.
And thenews is disturbing.
After the government of Omar al-Bashir announced the lifting of fuel subsidies last week claiming it's necessary to boost the economy, and making the price of a gallon of gas skyrocket from 12 to 21 Sudanese pounds, and the price of a canister of cooking gas nearly double, people in the Sudanese cities of Medani and Omdurman ignited a chain of protests that eventually spread to the capital city Khartoum and Khartoum Bahry to the north.
For the population, this was a last straw; they'd already been suffering under crippling economic conditions. And when the frustrated masses headed to the streets in protest, burning tires and stoning storefronts, authorities responded with tear gas, batons, and most unexpectedly – live ammunition.
Reports of the deaths immediately made it to the Internet – while it lasted. The governmentshut the Internet down a number of times. Widely distributedvideos and photos show gruesome details of bodies strewn with blood. Men, women, and children.
For many in the Bay Area diaspora, the violence has hit home in a profound way, with family members and friends among the injured and dead. One of the icons of the revolt, Dr. Salah Sanhoury, was killed while protesting. His cousin lives in the Fremont. Another family from San Jose has a cousin who was caught in the line of fire. Numerous members of the community have had their relatives arrested and detained by Sudanese security forces.

As photos of the now more than210 people killed have been posted online over these past 2 weeks, and reports of over 700 protesters arrested, Sudanese who live in the US organized rallies and protests in cities from San Francisco and Dallas/Ft Worth, to Iowa City and Washington DC.
In San Francisco, last Sunday, members of the Sudanese community gathered at Union Square to protest the Sudanese government crackdown in a silent rally representing the silencing of the Sudanese people. They carried enlarged pictures of protest victims, and signs that say 'Sudan Revolts', and 'freedom for Sudan.'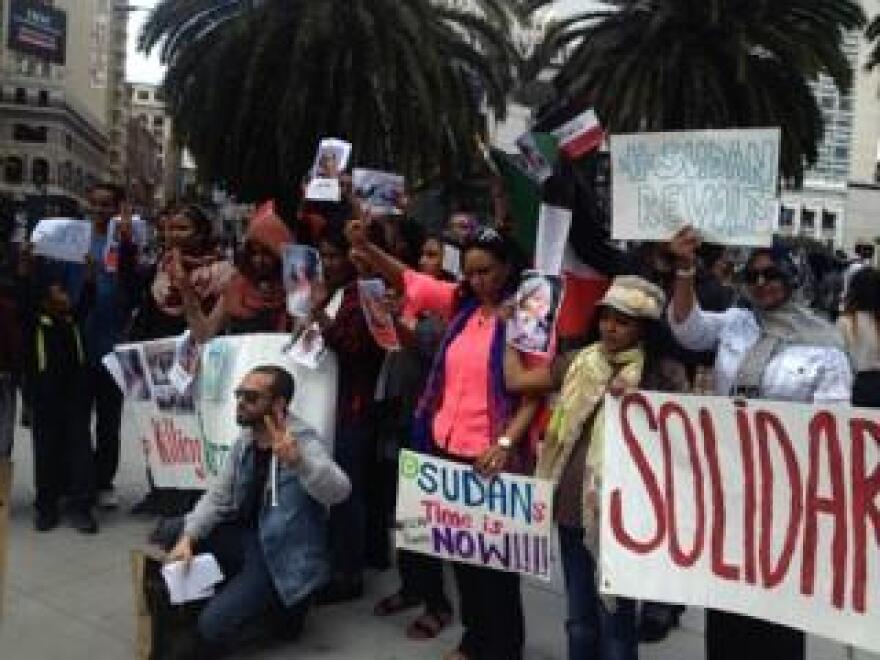 Gamila Abdelhalim of Fremont came with her husband, sisters, nieces, and four daughters. "The fact that we are here, thousands of miles away from home, does not diminish our love for Sudan and its people, and our horror at what is going on," she said. "This is the least we can do to show that we are with them, our hearts are with them. The al-Bashir government must stop killing innocent people who are poor, tired and frustrated at what the country has become!"
Abdelhalim's daughter Ilham, 22, a San Francisco State student, urged young Sudanese Americans to rally their friends and colleagues to show solidarity with the Sudan protests, saying it's also an opportunity to educate the American people about Sudan.
Activist groups are calling on Sudanese Americans to contact their political representatives, sign apetition, and contact their local media to bring awareness to the situation in Sudan.

The San Francisco group plans to reassemble at Union Square this afternoon.