Youth Radio: Staying off probation, and teaching others how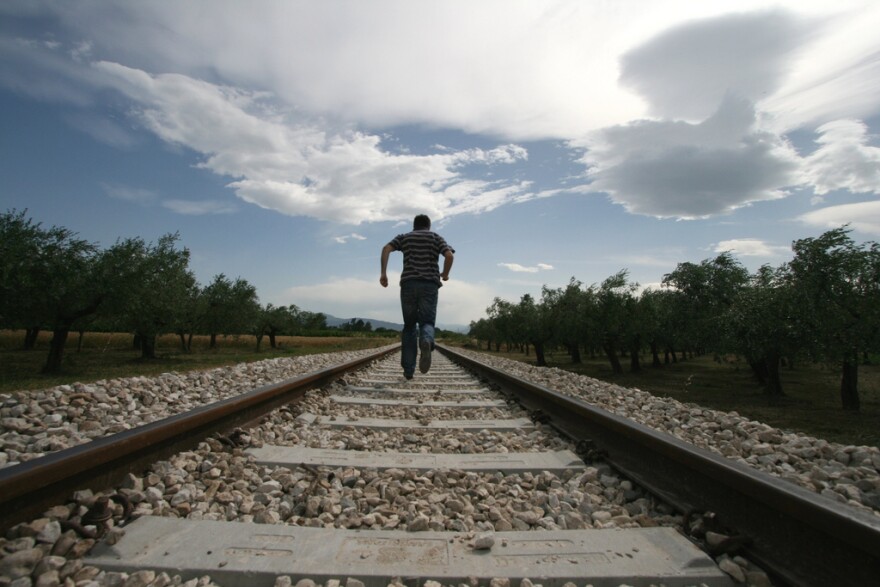 In 2008, Reinaldi Gilder promised himself that he would never go back to jail. Since his release in December of that year, he's not only managed to keep his word, he has also shown others that they can do the same.
"Being on probation [is] kind of like being Black in the 1800's," Gilder said as he stood in the main hallway on the second floor of the Alameda County Probation Department building in downtown Oakland. As sunlight beamed through the window into the hallway, Gilder squinted and summed up the desperation felt by so many on probation: "There's no way to come up out of that."
Gilder had been on a dangerous path. He was arrested in 2007 for armed robbery and sentenced to one year at Alameda County's Glenn E. Dyer Jail. Prior to being released, Gilder says he sat in that jail cell and made a decision that would alter his life's path. "I decided to go to school, because I know people that go to school don't go to jail that often, " he said. After being released in the winter of 2008, Gilder was given five years of probation.
He promptly enrolled in community college courses in Berkeley and Alameda, through the Peralta Community College system. He struggled academically – he failed some classes — but kept at it. Fours years later, in the winter of 2012, Gilder had earned a certificate in prevention strategies from Alameda College, where he's currently pursuing an associate degree in general education.
During his time as a student, Gilder immersed himself in campus life, through joining various organizations and clubs, and attending events and forums. One day he attended a film screening on campus — the movie was an independent feature film, "Equinox," a coming of age tale of a young man who follows a self-righteous path. At the screening Gilder met the director, Baayan Bakari, and the two exchanged contact information. Later that school year, Gilder organized his own screening of the movie, anBakari attended.
Bakari, a former youth group facilitator at Oakland's Mentoring Center, was quickly impressed with Gilder's commitment to bettering his own life, and the lives of others. "He's doing the work," Bakari exclaimed during an interview in his Berkeley office. "I wish (Gilder) could hold a thousand screenings."
Gilder, now 28, regularly volunteers on behalf of Alameda's Probation Rehabilitation Opportunity Program Service (PROPS), a program that assists young men on probation and offers them a chance to terminate their probation early.
Speaking to half a dozen young men in the group last spring, Gilder drew on his own experience: "You've got a short window to do things in a certain way, and this will allow you to move on with the rest of your life." The young men, all on probation for various offenses, from violation of probation to gun and drug possession cases, listened.
It was just one of the many workshops Gilder leads. They take place monthly, and the number of young men in the group fluctuates from anywhere between three and fifteen, depending on the time of year. Gilder facilitates the discussions, and draws on his experiences to give the participants a tangible example of what it takes to get off of probation early. He also organizes tours of college campuses and hosts screenings of worthwhile films — such as "Equinox" — with the PROPS group.
"When you see young people like Gilder get off probation early and come back, it's a blessing," said David Cummings, Gilder's former probation officer, who now supervises his work in the PROPS program. "If you believe that you won't go back to jail, and actually take certain steps to do so," said Gilder after finishing one of his PROP workshops, "I think it's possible for anyone to get off of probation."